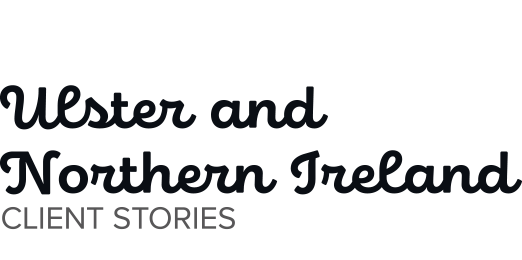 Ballynahinch Rugby Football Club
A club for all ages, a club for all people.
Founded in 1954, Ballynahinch RFC has risen to become regarded as one of the leading clubs in Northern Ireland boasting a membership of over 500 individuals drawn from all over County Down, Belfast and the Mournes region. The club enjoys an excellent relationship with the local, largely rural, community with a clubhouse which is regularly used by outside groups to hold various functions. 
We were delighted to support this progressive club with a flexible, tailored loan to enable them to enhance their facilities and upgrade their grounds. 
Ensuring their mission to be at the social and sporting heart of their local community remains.

"Ballynahinch Rugby Club found Community Finance Ireland (formerly UCIT) to be a superb organisation to deal with when we approached them to help us with a funding shortfall during the construction of our community walking trail. They made an effort to understand our club and it's position within the local community and showed real empathy with our situation. The attention to detail was superb and the application was dealt with rapidly and efficiently. We would not hesitate to recommend them to other clubs and similar organisations. They have also shown themselves to be very responsible lenders with their help during the coronavirus outbreak." 
David George, Club Treasurer

Access Employment Ltd. (AEL) is a social enterprise which provides adults with learning disabilities/difficulties, aspergers, autism or other disadvantage, with training and employment opportunities. 
The organisation has developed a number of sustainable businesses in which to provide these people with the skills, experience and confidence to find employment within the open labour market.
We were delighted to support AEL with the finance required to enable the ongoing growth of their ethical bottled water business, Clearer Water. 
Clearer Water sources and bottles drinking water which is certified as among the best quality in the UK and Ireland. Each bottle has a unique 'Trace Code' which enables the consumer to find out more about 'the product' but also about 'the person' that bottled their actual bottle of water. The consumer is therefore able to find out about the individual they have helped to support into employment via their purchase decision.
Currently there are 10 young adults working in the bottling plant, 8 of whom have some form of disability or mental health problem.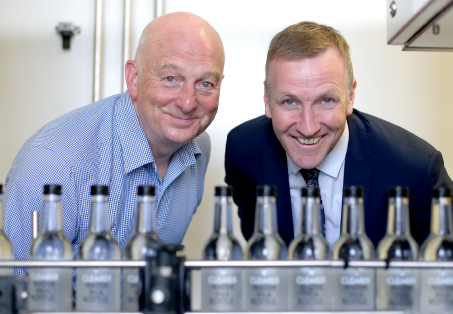 "Our bottled water became very popular, very quickly, and in terms of productivity we realised that by not investing in the business at this critical time, we would have been holding the business back. We approached Community Finance Ireland (formerly UCIT) for finance as we have always known them to be strong in terms of support for social enterprise but not only that, they know their own market very well. 
Critical to the success of the plant has been our ability to invest in new equipment. This investment has taken us up from a production of 200 bottles of sparking water an hour to 1,600 bottles an hour thereby enabling the business to grow and to meet increasing customer demand." 
David Hunter, Director & co-founder, Clearer Water

The Old Courthouse in Kesh has been given a new lease of life. 
Constructed in 1908 and used as a Courthouse until the mid-1970's, 'The Old Courthouse' has been replaced with a new state of the art community centre which provides a base for the delivery of much needed services for this rural area. 
With a focus on social inclusion the Centre provides a range of health and well- being services while also providing a drop in coffee shop, befriending service and social economy hub. 
Given the importance of tourism to the local area, the centre will act as an information point and provides a genealogy service where people can trace family histories. 
We were delighted to provide the organisation with a loan to assist with the rebuilding and refurbishment works. 

"With all statutory approvals in place and having secured significant funding, The Courthouse Kesh Limited sought help from Community Finance Ireland (formerly UCIT) to borrow the remainder of the capital cost. Without this loan the project could not have gone ahead and we are so grateful to the staff in Community Finance Ireland for all the help, advice and encouragement given during the loan drawdown period." 
Gerald Knox, The Courthouse Kesh Ltd.

An Tobar Community Wellness Centre and Social Farm
Sisters Develop Therapeutic Horticulture to Connect Communities.
Finnegan's Nursery & Garden Centre is a family business based in Silverbridge, South Armagh. Today it is almost 20 years in operation.
The development of their garden centre business was an innovative step to help diversify the family farming business. 
In 2018, Sisters Katherine Agnew and Margaret Finnegan formed a Community Interest Company that would lease their family site, for a monthly fee. The site delivers social and therapeutic horticulture to a wide range of users including local schools, nursing homes and health trusts.
With loan approval from us, they constructed improved disabled access and pathways, upgrades of disabled toilets, purchase of equipment, conversion of existing poly-tunnels and raised flowerbeds. 
A further bridging loan facilitated the payment of up-front costs for planting 13,000 trees in a 'forestry expansion scheme'. This family business and the community is thriving as a result.

"Initially we sought funding from High Street banks, but they just didn't have the flexibility to accommodate our business model. 
The Community Finance Ireland Building Better Futures Fund embraced the concept from the outset. 
We're now in a position to significantly enhance our facilities and plan for our next phase of growth."
Kathleen Finnegan-Agnew, Founder